In addition to placing orders by mail with a check , all items below may be purchased securely with a credit card or PayPal by emailing us at info@baytownhistory.org. (A PayPal account is not needed to use your debit or credit card.) In your email, include the items you would like to order and the quantity of each. Also, please let us know if you would like your order to be mailed or if you will pick it locally.
The sale of all items benefit the BHPA's restoration/preservation projects. Thank you for your support!
Own a piece of the Old Oak Tree!
Missed out last Christmas getting a pen depicting the City of Baytown's Official Symbol? We are pleased to announce that we are having a few more pens made out of the clipped branches remaining from the Texas Avenue Oak Tree when it was pruned in March 2017 by Baytown Parks and Recreation Department. The pens should arrive in early December—just in time for Christmas. If you would like to place an order for these exquisite looking pens, please click on the pen photo above for info/order form. Deadline for ordering is Tuesday, August 27, 2019.
Baytown, the Yesteryears!

Baytown, the Yesteryears, a collection of articles written by Wanda Orton and published throughout the years in The Baytown Sun, is the perfect gift for anyone with a Baytown connection.

Click on the book image for more information on how to order this unique book.




Click on book image for more information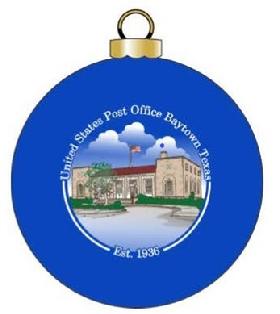 2019 Limited Edition Tree Ornament







United States Post Office on Market Street

Our 2019 limited edition ornament depicting the Baytown Post Office on Market Street has arrived! The picturesque sketch on the ornament is from an old post card.

These ornaments are a perfect gift for those who love local history. Click on the ornament sketch for more information on how to purchase this keepsake ornament.
Christmas on Texas Avenue in the 1950s
Our 2017 limited edition tree ornament will surely bring back fond memories to many of the hustle and bustle of the Christmas season in downtown Baytown. The picture on the ornament was sketched from an actual 1950s postcard. Click on the photo for more information on this beautiful keepsake ornament.
We also have a very limited number of the ornaments depicted below. For more information or to order by mail, click on the ornament sketches (not exact size or colors) for an order form. (Please note that the sketches are not pictures of the actual ornaments.)
Mailing address: P. O. Box 1244, Baytown, TX 77522-1244
Copyright © 2008–2020 Baytown Historical Preservation Association, all rights reserved.